Detox Program in beautiful Bodrum/Turkey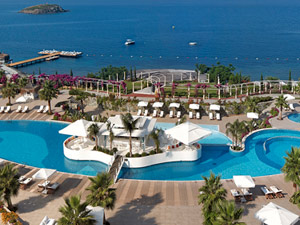 In all programs, the aim is to motivate people to pursue a healthier, livelier and more energetic life. We believe that with correct nutrition, a positive mind and a supportive lifestyle, the body has an inherent capability to heal itself and to achieve optimum health. Therefore we have dedicated ourselves to become a guide and life coach to help lead people towards a balanced lifestyle and optimum health. We encourage people to transform their physical, mental and spiritual worlds and especially to help people to overcome suffering from life threatening illness, eating disorders, obesity and physiological problems.
We all know how important food is for health. Food affects the immune system, metabolic paths, hormones, growth, emotional well-being and energy levels. Our state of health is directly related to the food we consume daily. Therefore to achieve optimum health, it is necessary to ensure optimum nutrition, to be in an environment removed from toxic substances and to have a positive perspective and a peaceful inner world.
Our culture has disconnected many of us from our inner world and taught us not to feel our bodies or to react to our emotions. Our attention has been drawn to places other than the path towards finding our inner wisdom. Our most basic human needs have been neglected and even eating which is our most basic relationship to nature has been transformed into an act of receiving toxins.
We have been conditioned into thinking that we would be well nourished, consuming mostly meat, poultry and dairy products, but research shows that such food significantly increase heart diseases, cancer, diabetes, strokes and other degenerative diseases.
Today we are rediscovering that the food we eat is the source of life for the body and the soul. Therefore now it is time for people to be nurtured with organic food grown in clean, healthy soil and to respect our earth and what it creates for us.
PROGRAM DETAILS
The detox process encourages weight loss and helps to regulate the glandular, metabolic and nervous system functions of the body. At the same time detoxing assists in disposal of hazardous materials, toxic waste and dead cells that have accumulated in the body, accelerating formation of new cells and tissue and ensuring that the amount of oxygen in the cells is increased. When the body undergoes a detox, the individual's energy level rises, he/she gains a smoother skin and achieves overall happier and healthier looks. Therefore one may expect significant progress to overall health, improvement of inner equilibrium and increased energy.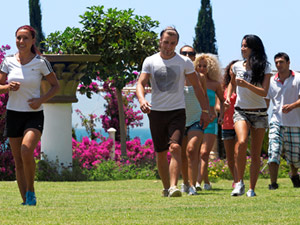 The first day includes a body analysis and a blood test is recommended.

A minimum of 1 litre of alkaline water must be consumed per day. Fluid intake is one of the most important elements of the program. We recommend that you consume fluids equal to minimum 6 per cent of your body weight (For example, 4.2 litres of water if you weigh 70 kg).

Ample amount of detox soup (minimum five large cups per day) and various herbal teas must be consumed every day. Please drink these minimum 20 minutes before or after consuming any vegetable/fruit juices or salads. The program includes unlimited detox soup and unlimited fruit and vegetable juice.

There is also a liver cleansing drink available which should be consumed throughout the program to be purified from toxins and to cleanse the liver.

It is also extremely important to brush the skin and clean the tongue each morning to be relieved from toxins and waste.

The cleansing of the colon is extremely beneficial to achieve health. During the detox week, the hydrocolonic therapy machine will run to facilitate disposal from the body of the waste in large intestines. In the walls of the intestines of most of us, there are hardened residues and therefore it is recommended that you go through hydrocolonic therapy at least once during your detox program to reset optimum intestinal functions.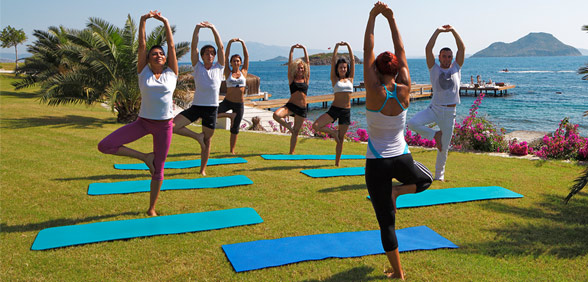 Yoga and meditation are important parts of your purification program. Herbs, drugs and extracts will help toxins accumulated in the body to be disposed of. When we release these old toxins from our systems, often we will also get rid of negative sentiments. Yoga and meditation are powerful and effective tools to achieve physical, mental, emotional and spiritual harmony and equilibrium at each level.
We also offer daily yoga courses where vinyasa yoga is taught during our detox program. These yoga lessons offered are appropriate both for beginning and also advanced level students.

Those wishing to exercise outdoors may perform walking or slow pace running exercises either on the walking course or by the sea inside the facility or may swim in the pools or at the beautiful beach. Also it is recommended to participate in all pilates, stretching and water gymnastics courses. Individuals going through detox are recommended to perform outdoor exercises that are not very demanding to help with the detox program.

Massage is an important part of all detox programs because this helps to get rid of the toxins, especially those secreted by the liver and the kidneys during detoxification. To support your deep purification and transformation efforts in our program, we recommend that you undergo massage and other healing practices each day.

There is a Turkish Bath in the spa department where you can have a bath glove rub. The skin is the largest organ of the body, helping to dispose of a significant amount of toxins through perspiration when its pores are opened. This is a powerful detox method.

You may enjoy our library which has a broad book collection or watch a film in the conference hall during your stay. Internet access is also available.

THE DETOX PACKAGE INCLUDES
Accommodation in Suites or Villas (all included with Jacuzzis) (Min. 92 m2)
Detox program gifts (Naturel Body Brush, Tongue Cleaner)
Body Analysis
Doctor Consultancy
Detox Specialist Consultancy
Group Support Therapy
Welcome introduction to Detox seminar on arrival
Healthy Living seminars ( How to prepare healthy food at your home, Life after Detox and What to eat for Healthy thin body, How stay away toxins at home, Introduciton to Raw Food class )
DVD nights on Healthy Living
Seminar of Complementary & Alternative Medicine ( 1 time per week as community )
All Detox Juices, Detox Salads, Detox Supplements
Un limited detox soup
Un limited fruit and herbal teas
Ph 10 Water
Angel of Water (self service colon cleansing with open system machine) (Every day - once a day)
Colon Hydrotherapy with experience on Nurse on extra charge*
Fitness Center access
Yoga Classes
Pilates Classes,
Streching, Oriental Aerobic, Table Tennis, Basketball
Jogging with Specialist ( in nature, Tartan, Fitness)
Tennis Courts
Aqua Gym
Steam Room, Sauna, Turkish Bath Access
Beach
Indoor Pools
Outdoor Pools
Thalasso (heated seawater)
Butler Service on extra charge*
Airport transfer on extra charge*

DETOX DATES
Monday 2nd June 2014 - Sunday 15th June 2014 - 14 day Detox (Check out Monday 16th June)

Monday 2nd June 2014 - Sunday 8th June 2014 - 7 Day Detox (Check out Monday 9th June)

Monday 9th - Sunday 15th June 2014 - 7 Day Detox (Check out Monday 16th June)

Note: You can choose to do the detox for 7 days Or 14 Days.
BOOKING YOUR FLIGHT

All participants are to organise there flight with there travel agency and we all meet at The Gardens of Babylon Detox Resort.

I recommend the travel agency below for flight.

TJ Travel
Name: Alp Uyanik:
Mobile: 0415 981 794
Office: (03) 9792 4310

PICK UP FROM AIRPORT

There is a fee for pick up from the airport this service is provided by Gardens Of Babylon.
- Renault Fluence/Megane cost €75
- Mercedes Vito cost €105

CHOOSE THE PROGRAMME YOU WISH TO DO

Option 1. Master Detox - includes: Vegetable juice & Fruit Juice & Wheat grass, Soup & herbal tea. (Liquids only)

Option 2. Green Juice Detox - includes: Vegetable juices, Wheat Grass, Soup and herbal tea.

Option 3. Raw Food Detox - includes: Salads, Vegetable juices, Fresh seasonal fruit, Soup and herbal tea.

Note: After you have booked your Detox, Ace will contact you to confirm which program you would like to do. You will also be forwarded the Garden Of Babylon Health Centre manual which provides comprehensive information that you will need to read.
REGISTRATION FOR DETOX CLOSING DATE IS:
Saturday 17th May, 2014